K12 Loans/School Financing Loan
The willingness and drive to impart learning is a moral endeavour, which should not be limited by financial constraints. Clix understands these worries and has provided you with the perfect solution to meet all your school financing requirements. Our K12 loans will help you attain the funding required to meet the requirements of capital expansion for your school. This can include everything from constructing a new building, renovating & repairing existing structures, expanding the premises, or anything else along the same lines. We will help you in your journey to make learnings more accessible for all!
Here's What Clix Has to Offer
Large Loan Amounts
We have school financing loans ranging from Rs. 10 lakhs, all the way to Rs 7.5 crores to meet your financial needs.
Loan Amount Eligibility
Our expert Underwriting Team understands your business in a realistic way and derives at the loan amount, which will work out to be the best for you.  We consider actual cash flows of the school, rather than analysing the traditional way of approving loans basis reported income methods.

Flexibility of Choice
Clix provides you with both secured and unsecured K12 loans, allowing you to choose what you're most comfortable with!
Convenient Repayment Options
Our loan tenures can last all the way up to 10 years (5 in the case of unsecured loans), giving you ample time to pay off your loan amount!
Minimal Documentation
You deal with enough paperwork every day anyway, so we keep ours to a minimum and help you get your school financing done with ease.
Am I Eligible For A K12 Loan?
Are you:
-at least 21 while applying for the loan (25 in the case of unsecured K12 loans) and under 65 at the end of its tenure?
Is your business:
-Trust/Society/Section 25 Company in managing K12 Schools.
-Reported Financials not required for loans upto 200L.  Reported Audited Financials required for last 2 years for loans above 200L.
-A going concern in the area of education with a minimum business vintage of 5 years (7 if opting for unsecured K12 loans).
Did you answer all these questions with 'Yes'? Then congratulations – you're eligible!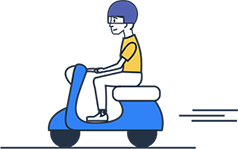 How Do I Apply For a Loan
Fill out the
application form.
It takes only 3 minutes!
Have a quick chat with
our representative to learn about
your K12  School Loan.
Sit back and
relax! You are on your way
to secure a

K12 School Loan.
What Documents Do I Need To Provide?
Completed Application Form
We will provide you with a run-of-the-mill application form to detail out all the information we need before processing your business loan request.
This photograph should be fairly recent and indicative of your current physical appearance.
This can be either your PAN Card, Driver's License, or Government ID (if you happen to be a government employee).
Your Aadhaar Card is the go-to document here. In case your current address is not updated in Aadhaar card, one certified copy of any Official Valid Document (OVD) is required. These OVDs are either your Passport, Voter ID, or Driving License. Your Utility Bills from the last 2 months may also apply here.
Financial Documents/Income Proof
PAN Card – For Firm/Company/Individual(s) coming applying for the loan

GSTIN

6-month bank statement

Copy of the most recent Income Tax Return form along with computation of income, audited balance sheet and profit & loss account for the previous 2 years

Proof of continuity of business for 5 years (7 in the case of unsecured K12 loans). These include the ITR, trade license, establishment, and sales tax certificate.
In the Name of the Applicant or the Applicant's Spouse/Parent
FAQs
How do I avail a K12 loan from Clix?
There's a space at the top and bottom of this page to put in your phone number. Just provide the same and our customer representative will speak with you shortly to get a school financing loan online!
Is there any restriction on the end use of my loan?
We are all about catering to your expansion needs! You can use the  K12 school loan to construct a new building, renovate & repair existing structures, or expand the premises.
What will be the tenure, down payment, EMI, and interest rate for my K12 loan?
At Clix Capital, you can choose from customised repayment (EMI)  options. However, the interest rate of your school financing loan depends on various factors, such as the specifics of your application (including metrics like business health and income). We'll tell you the final applicable interest rate once we go through your application form and all supporting documents.
How can I reach out to Clix for any other information on my school financing loan?
Just call us on our toll-free number at 1800-200-98-98 between 9:30am-6:30pm from Monday to Saturday (barring public holidays). Alternatively, you can also write to us at hello@clix.capital to resolve your queries around getting a K12 school loan. Don't worry, there are no consultation charges.
What is the schedule of charges at CLIX?
Read about our approach for determining interest rates, processing and other charges here.